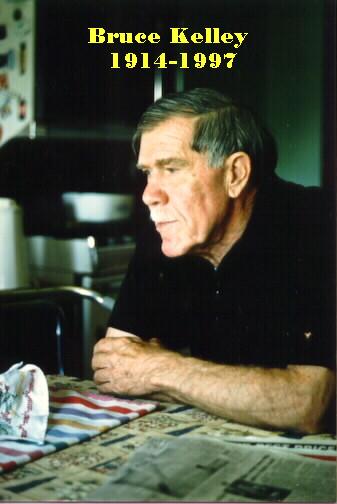 Services information
There will be calling hours at the funeral home in E. Bloomfield this Wednesday November 12, and a memorial service Thursday, November 13. If anyone wishes to pay their respects in person, email me and I'll send more details.
Bruce Kelley, co-founder and Curator of the Antique Wireless Association' Museum, passed away Thursday, 6 Nov. 1997, at his home in Bloomfield, NY. He was 82.

Bruce was first licensed as W8ACY in 1929. An avid DX-er from the start, by 1933 he had logged 75 countries, using a 5 watt, one tube transmitter. When he relocated in 1935, his call changed to W2ICE, which he retained to the present.

In 1948, the late George Batterson, W2GB, asked Bruce if he would store some old ham gear in his barn, including George's 1922 spark transmitter. Since Bruce already had a fair sized tube collection, the 2 men decided to exhibit their artifacts, and opened the barn to visiting hams. This was the beginning of AWA. Others donated their "old junk", and the exhibit expanded.

As AWA's curator Bruce Kelley applied his seemingly boundless energy to the task, and was active in the museum until ill health forced him to retire less than 2 months ago. His charisma inspired others to help, but he was always in the thick of it, working at what he loved best.

Today, AWA has 4100 members, and the museum has one of the largest and most interesting collections of radio, telegraph and television artifacts in the country. Bruce didn't do it alone, but it would not be half what it is without his inspiration and dedication.

Anyone who knew bruce would tell you he was quite a character. A good curator must be completely honest, and he was. He was also a natural leader, a great salesman, a con artist (but tongue in cheek; he warned you beforehand), and everyone's friend. Through my association with him I met dozens of the "grand old men" of radio.

When I moved to Bloomfield in 1989, Bruce got on my case to learn the code. In Jan. 1990, he administered my Novice exam, by Feb. I had passed my Advanced test and was on the air. I'd have never made it without his coaxing and good natured ribbing.

Farewell Bruce, we will miss you.

John Ward, KE2ST

PS- Ed Gable, K2MP, an AWA member for 20 years and a knowledgeable historian, succeeds Bruce as curator. Ed, we wish you all the best.